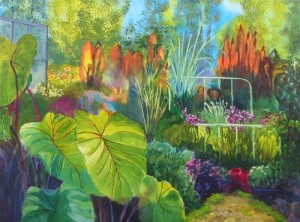 I'm excited to be participating in Columbia Open Studios this weekend!  With only 4 days to go, I'm framing new work and cleaning up so you'll have room to walk around and see my bold, colorful Fauvist landscapes and tropical gardens.  Y'all come see me Saturday or Sunday!
My studio is located on Two Notch Road across from Target and Michael's.  Click here to see the outside of the studio and the sign at the street.  http://lucindahowe.com/2010/12/new-studio-part-6-its-a-sign/
Click here http://www.701cca.org/programs-and-events-2/columbia_open_studios/ to see more information about the other artists participating in the weekend tour.   How do you like Diane Gilbert's alligator on the ad?  I don't have an alligator, but keep your eyes open for iguanas among the tropical foliage.
See you soon!