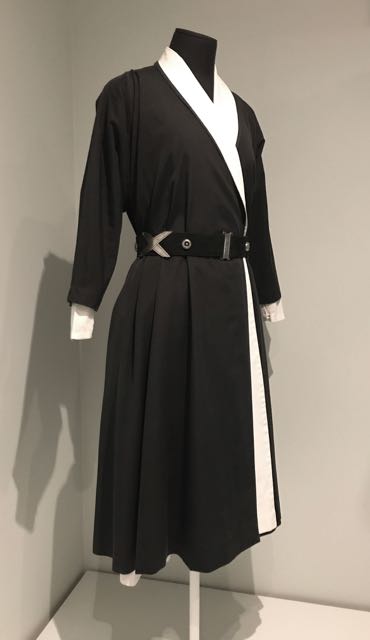 Last week I wrote about seeing "Georgia O'Keeffe: Living Modern" at Reynolda House Museum. This is part 2 of the series.
There have been many exhibits of Georgia O'Keeffe's paintings and books about her life. Her biographical details are well documented, so I won't repeat much of that here. My interest is mainly in her wardrobe and how her clothing style remained fairly consistent throughout her life.
During her marriage to Alfred Stieglitz (1924-1946), O'Keeffe lived in New York City. In 1929 she started spending part of each year in New Mexico. After Stieglitz's death in 1946, she moved in New Mexico permanently.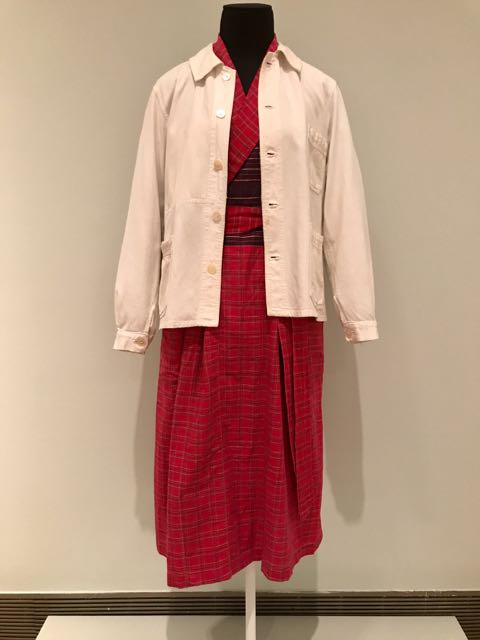 In New Mexico she expanded her wardrobe to include denim and colorful cotton dresses that were more practical in the dessert environment.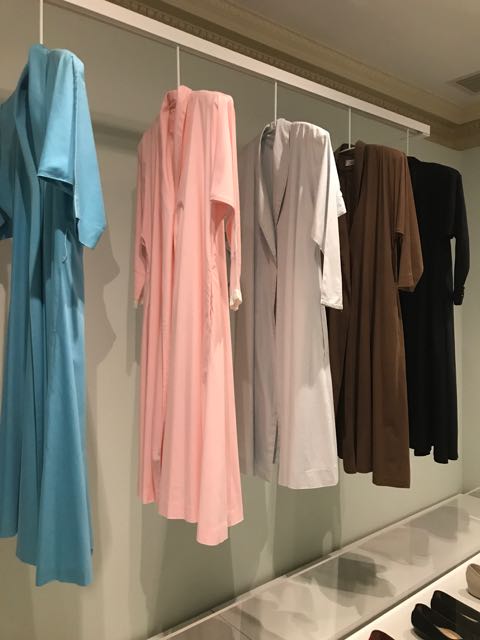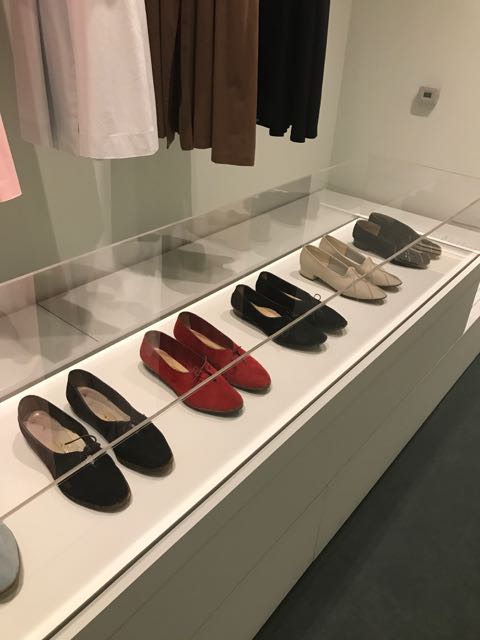 A favorite style was a simple wrap dress called an "artist's smock" introduced by Neiman Marcus in 1950. She had more than 20 of these dresses in her wardrobe. She also bought multiples of simple flat shoes.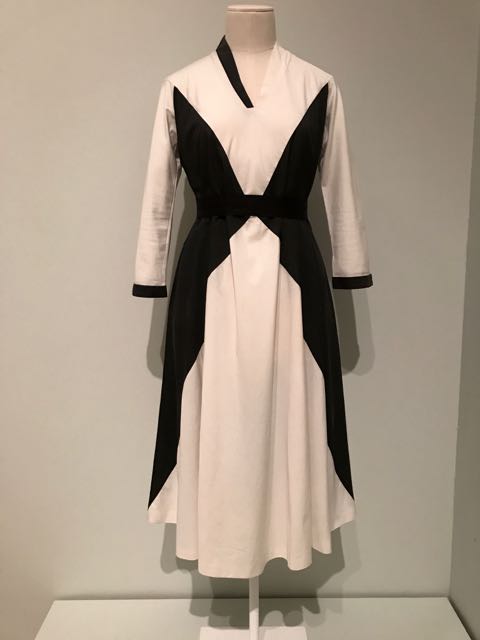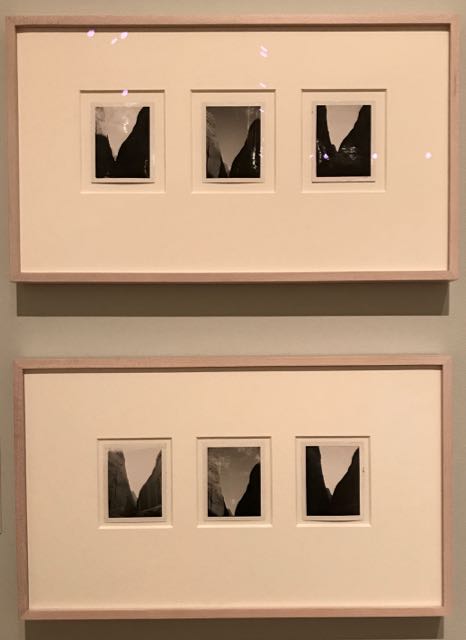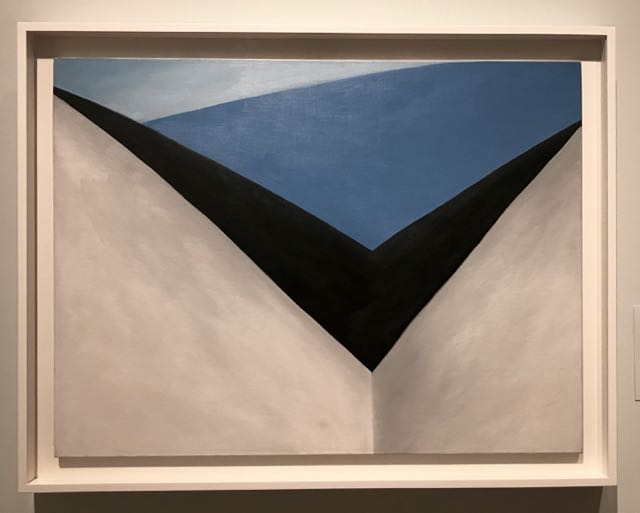 One of the most striking dresses in this exhibit is a 1954 "chute" (parachute) dress by Emilio Pucci that O'Keeffe purchased around the same time she was experimenting with abstracting natural and architectural forms in a V-shape. The dress was displayed near O'Keeffe's Polaroid photos of v-shaped canyons and her painting "In the Patio, IX".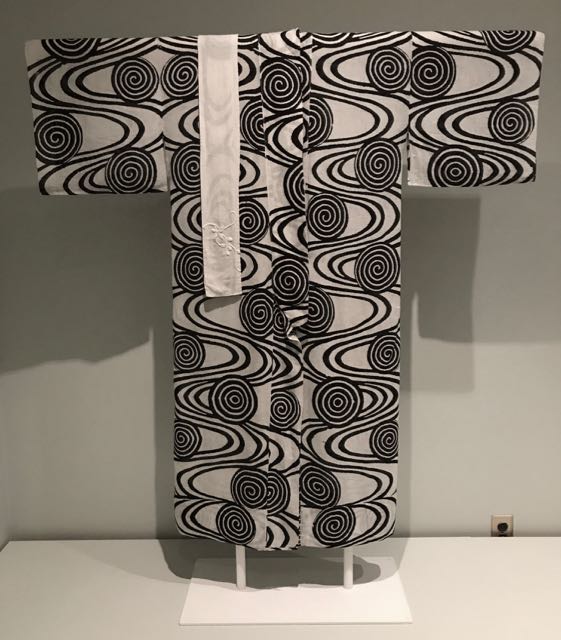 O'Keeffe was introduced to Asian art as a student and continued a life-long study of it. The label says, "Unlike most of her peers, who came to modern, abstract art through encounters with Expressionism and Cubism in Paris, O'Keeffe developed a modern aesthetic from a lasting immersion in Eastern arts. Evident in these galleries is the powerful role of emptiness in Asian paintings, and the beauty of spaces defined or activated by lines that are not filled in. The voids in her art, as in Zen practices, are often spaces that quiet the mind and invite inwardness."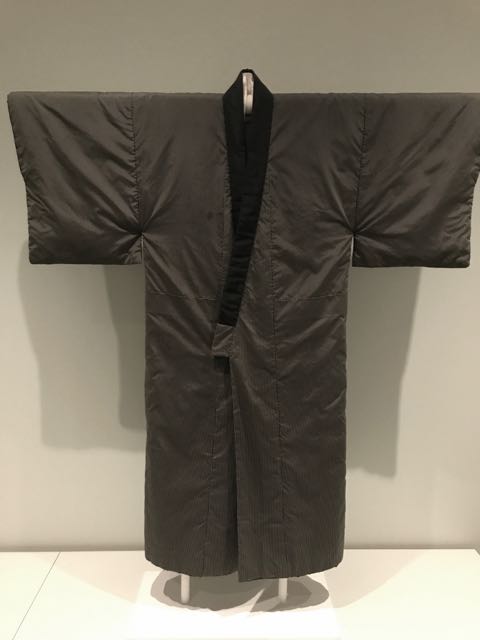 She collected kimonos on her travels and may have made some of them herself.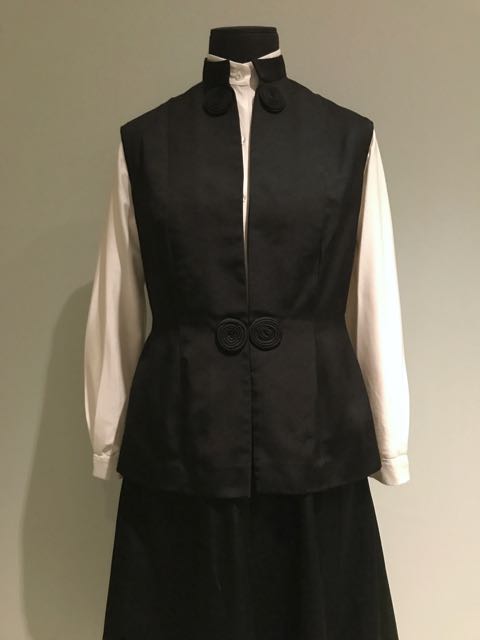 She also had dresses with frog button closures and mandarin collars.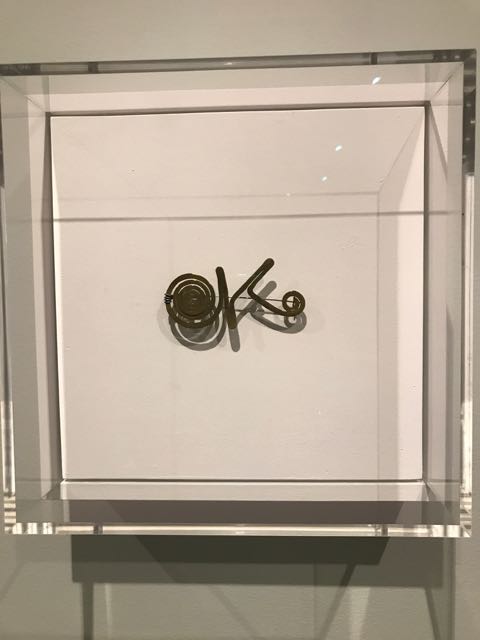 O'Keeffe also collected a few pieces of jewelry, Native American silver pieces and an Alexander Calder pin shaped like OK, the first two letters of her last name.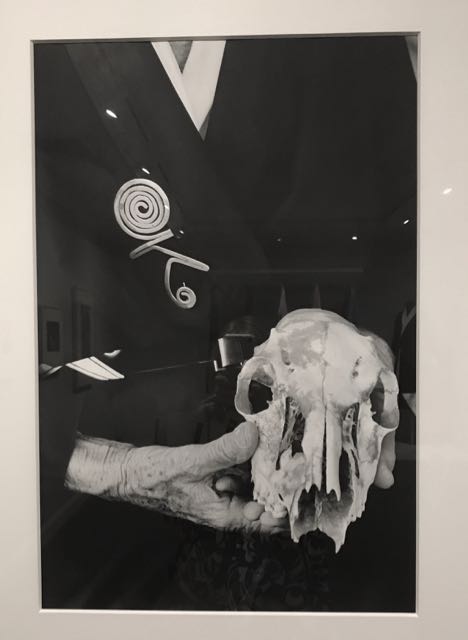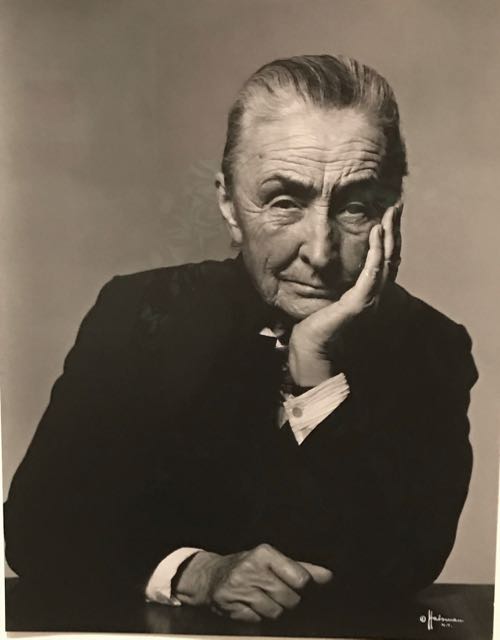 Later in life she continued to wear black suits and to sit for photos in black garments and her signature jewelry. In 1983, at the age of ninety-six, she ordered a black suit consisting of pants, skirt, vest, and jacket from a men's tailor in New York. The inclusion of pants was step toward the feminism of the era and in keeping with the androgynous look of the wise elder that Georgia O'Keeffe cultivated in her later life.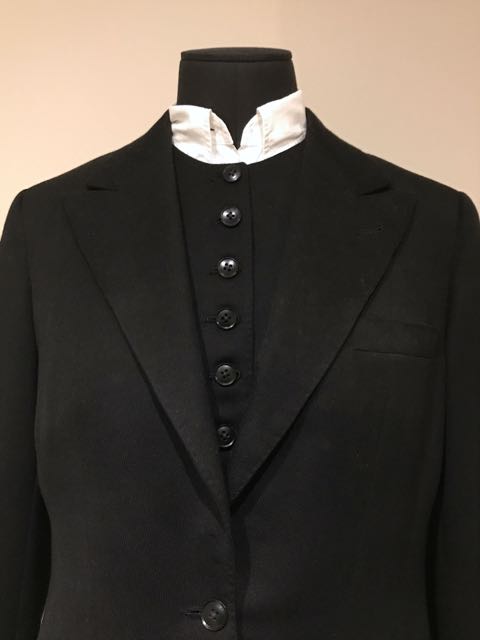 This exhibition shows how one artist integrated a personal aesthetic into her life and work. Georgia O'Keeffe developed her style early in life and stayed consistent throughout her life. She followed fashion, but brought it into her wardrobe only when it fit with her style. She combined influences from fashion, architecture, and oriental art into her clothing, lifestyle, and art.
Georgia O'Keeffe's popularity and influence continues today, more than 30 years after her death at age 98. While she has always been well known in the art world, this exhibit has expanded her influence to the fashion world. In a fashion show in May of this year, Maria Grazia Chiuri, artistic director for Christian Dior, cited the Georgia O'Keeffe exhibition (when it was at the Brooklyn Museum) as one of the influences for the Christian Dior 2018 Resort collection.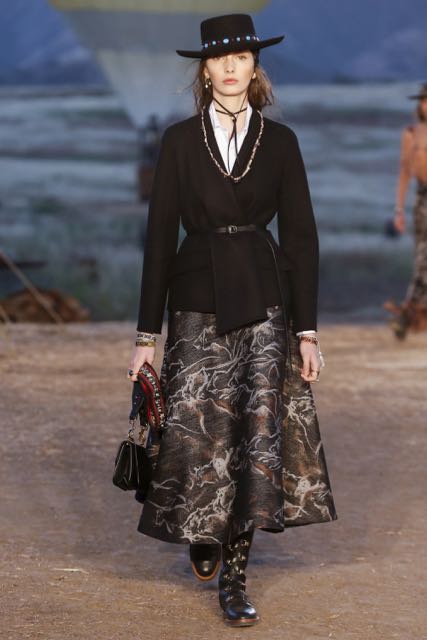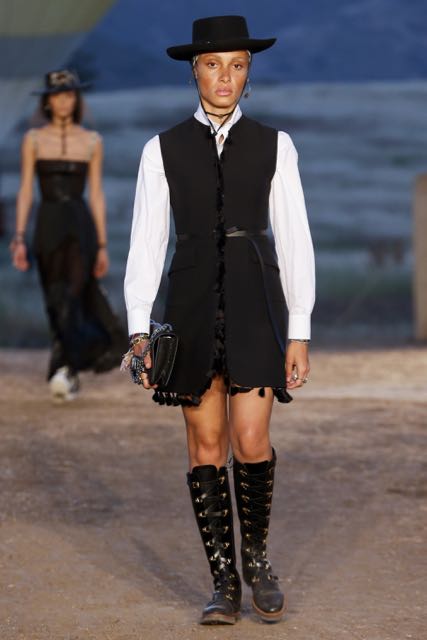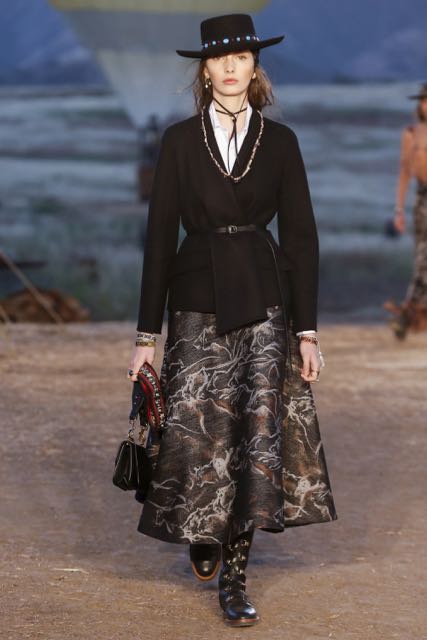 Some of the looks appear to be very similar to specific items from Georgia O'Keeffe's wardrobe, including her favored gaucho hats. (Click here to see a slideshow of the collection.) I'm not sure that she would have added tassels to her vest and forgotten to wear a skirt, but I think she would appreciated knowing that her style is still Living Modern.
If you want to see "Georgia O'Keeffe: Living Modern" before it closes on November 19, 2017, click here for more information.
[P.S. On a personal note: When I was a student at Wake Forest University in the 1970's, Reynolda House was used for some functions of the school. I remember attending a poetry class in an upstairs bedroom that currently functions as a gallery for part of the Georgia O'Keeffe: Living Modern exhibition. The Reynolda House Museum is quite fabulous and has an impressive collection of American art. My favorite part is the party basement… bar, lounge, squash court, bowling alley, and indoor swimming pool. It's worth a visit any time you're in Winston-Salem.]